Description
Details
About DJI Osmo Mobile 4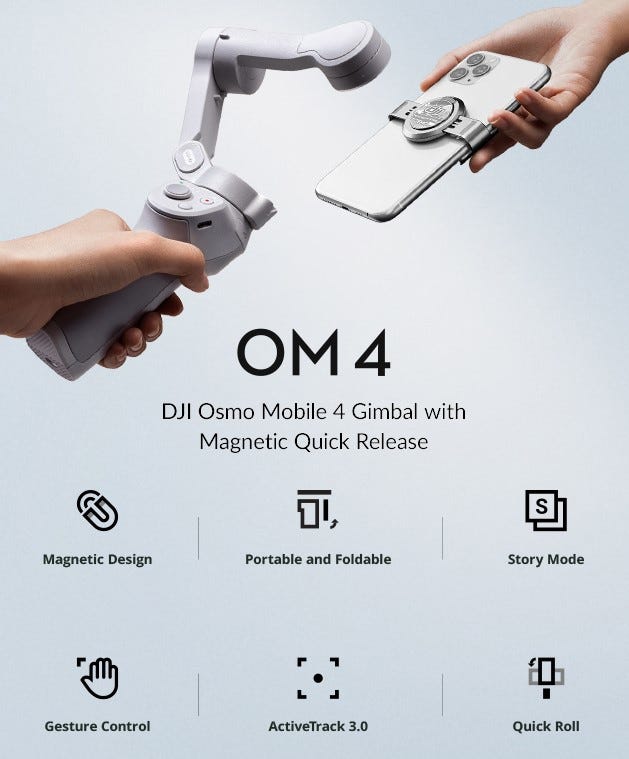 Create Magnetic Moments
Life's extraordinary moments deserve to be captured with smooth video. DJI OM 4 is foldable stabilizer designed to complement your smartphone, allowing you to start recording right away. Magnetic, ultra-compact, and bursting with easy-to-use features, OM 4 is the ultimate solution for sharing your world.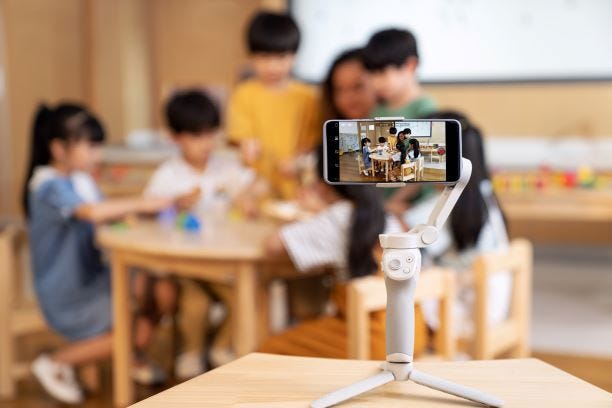 Feel the Pull
The magnetic phone clamp and magnetic ring holder enable effortless capture whenever inspiration strikes. Attach your smartphone to DJI OM 4 instantly, perfect for filming on the go.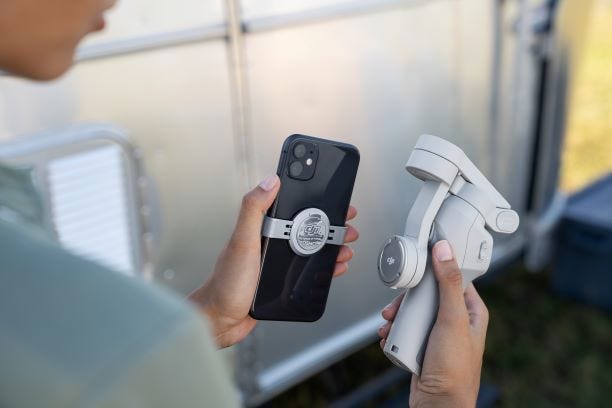 Magnetic Phone Clamp
The magnetic phone clamp is incredibly thin and ultra-light, keeping your smartphone secure while in use.
Magnetic Ring Holder
Use the magnetic ring holder to snap your smartphone onto OM 4, hold your phone safely, or use it as a kickstand
Filming Made Easy
Your eye-catching videos will be the center of attention, thanks to the creative features of DJI OM 4. Try DynamicZoom, a function that warps your footage for extra cinematic flair.
Create Magnetic Moments

Life's extraordinary moments deserve to be captured with smooth video. DJI OM 4 is a foldable stabilizer designed to complement your smartphone, allowing you to start recording right away. Magnetic, ultra-compact, and bursting with easy-to-use features, OM 4 is the ultimate solution for sharing your world.

Magnetic Quick-Release Design - Feel the Pull
The magnetic phone clamp and magnetic ring holder enable effortless capture whenever inspiration strikes. Attach your smartphone to DJI OM 4 instantly, perfect for filming on the go.

Magnetic Phone Clamp
The magnetic phone clamp is incredibly thin and ultralight, keeping your smartphone secure while in use.

Magnetic Ring Holder
Use the magnetic ring holder to snap your smartphone onto OM 4, hold your phone safely, or use it as a kickstand.


Intelligent Shooting Modes - Filming Made Easy
Your eye-catching videos will be the center of attention thanks to the creative features of DJI OM 4.


Intelligent Features - Reimagine What is Possible
DJI OM 4 is packed with one-of-a-kind features that ensure truly magnetic content.

ActiveTrack 3.0
ActiveTrack 3.0 makes following subjects a walk in the park. This version recognizes adults, children, and pets with higher accuracy, and you can even fine-tune your image composition with the joystick.

Story Mode
Unsure about how to film or edit? Try out Story mode's one-tap creative templates to stay in the moment while capturing fascinating footage.

DynamicZoom
Try out the mind-boggling "Hitchcock effect", a creative zoom shot that delivers a Hollywood feel with minimal effort. Advanced algorithms know what to do, so all you have to do is tap and walk.

CloneMe Pano
Ever want to be in multiple places at the same time? Here's your chance. The CloneMe feature creates one epic panorama from several photos, pausing so you can get to the next frame and strike a pose.

Gesture Control
Whether you're taking a selfie or a group photo, hands-free is the way to go. Remotely control OM 4 with just a gesture. Snapping a pic or starting a video has never been this convenient.


Time for Timelapse - Make Every Second Count
Speed up fluffy white clouds drifting across an open sky or condense a road trip into a few seconds. Impress your friends with captivating, compact videos.

Hyperlapse
Condense time and movement for a mesmerizing result.

Motionlapse
Add flair to your footage with a moving timelapse. Select specific positions before recording.

Timelapse
Pack a beautiful sunset into a short video clip, perfect for sharing.


Creative Possibilities - But Wait, There's More
Take advantage of a whole host of creative modes to add more pizazz to your shots.

SpinShot Mode
Rotate your smartphone for an impressive shooting effect.

Slow Motion
Slow things down to catch moments you might have missed.

240 Degree Pano
Use gestures or a countdown to capture a panorama with details that pop.

3 x3 Pano
Nine photos are automatically combined into a super wide-angle shot.


App - DJI Mimo App
The DJI Mimo app features a video editor that allows you to compose masterpieces on the fly. Built-in tutorials provide guidance so you can focus on creating.


3-Axis Stabilization - Don't Settle for Shaky Footage
At its core, DJI OM 4 was designed to provide unbelievably smooth footage along with countless creative shooting options.

Super Stable
Never post a shaky video
Additional Info
Reviews
Tags